Working on the new operating system HarmonyOS 2.0, Huawei somehow officially introduced EMUI 12 worldwide yesterday with the EMUI 12 release date. Devices that will receive EMUI 12.
Focusing on HarmonyOS 2.0, the company made such a move to bring its interface closer to HarmonyOS, according to our estimates.
Click here and check out themes for HarmonyOS Devices!
EMUI 12 Eligible Devices:
Currently, there is no clear information about the planning of devices that will officially receive Huawei EMUI 12. However, thanks to the suddenly released EMUI 12, we guess then it'll first begin with the Huawei Mate 40 series, P40 series, Mate 30 series and will come to devices close to it.
Huawei Mate 40
Huawei Mate 40 Pro
Huawei Mate 40 Pro+
Huawei Mate 40 RS Porsche Design
Huawei Mate 40E
Huawei Mate X2
Huawei P40
Huawei P40 4G
Huawei P40 Pro
Huawei P40 Pro Plus
Huawei Mate 30 Pro 4G
Huawei Mate 30 Pro 5G
Huawei Mate 30E Pro 5G
Huawei Mate 30 RS Porsche Design
Huawei Mate 30 4G
Huawei Mate 30 5G
Click here and check out themes for EMUI 11 / EMUI 12 Devices!
EMUI 12 comes with small innovations
Rumors have been circulating for a long time that Huawei will continue to use EMUI after the release of HarmonyOS. These rumors were proven with the announcement of the new interface update. Probably Huawei will continue to support its interface with updates for another 1-2 years. After HarmonyOS 2.0 becomes widespread, the Chinese company will enter a different path.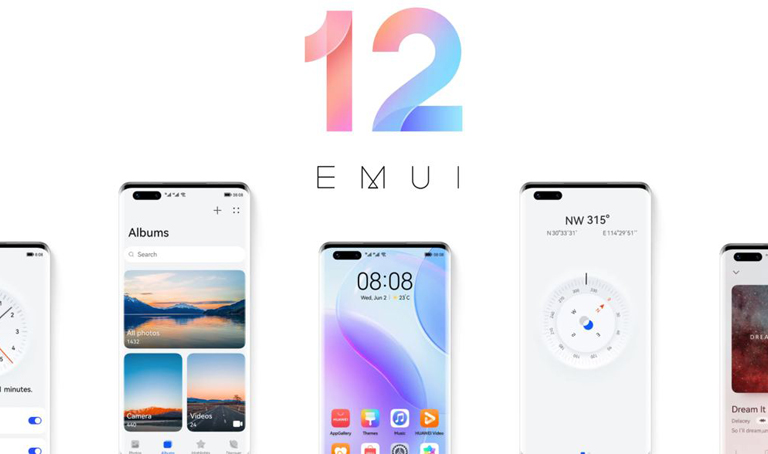 The new update favors finer gradient settings and more natural effects, stepless font size adjustment, and a more minimalist design. Offering a safer experience to its users thanks to increased security, the company also offers the multi-screen interaction feature. This feature allows interaction between a smartphone and a computer.
Also, EMUI 12 will allow adding smartwatches to trusted devices and the user will be able to unlock the smartphone only if the watch is paired with the smartphone. In general, we can say that EMUI 12 is not a revolutionary update. We will share the latest news about EMUI 12 with your.